By MARCUS HELTON AND CHARLES ABANKWA
BOWIE, MD – Several familiar names – and a group of new ones – highlighted the 17U Division action at the inaugural DMVelite Media Series May 23-24 at Bowie City Gym.
Session I of the three-event series proved to be a success for the teams and players involved, all of whom came in hoping to gain some more exposure and prepare for their upcoming live period schedules.
RELATED: PLAYER & TEAM STATISTICS

RELATED: 17U DAY 1 VIDEO | 17U DAY 2 VIDEO
17U Division MVP: Justin Milstead, Southern Maryland All-Stars
17U Division Hustle Award: Trevon Wright, NoVa Suns
17U Division Defensive MVP: Tyjhai Byers, The District
NoVa Suns, Southern Maryland All-Stars and The District Basketball Club all went 3-0 in the 17U Division. Here's a look at some of the individual standouts from the weekend:
Justin Milstead, Southern Maryland All-Stars
Milstead (PICTURED, TOP) averaged 17.0 points per game to lead the 17U Division in scoring, and was at his best when games got tight. He took over in the second half of a tight 49-45 win over DC Phenoms while posting a game-high 22 points. Milstead is a tenacious and tough lead guard with quickness and a stocky frame that allows him to power past defenders and also handle contact and finish in the paint. He also excelled at getting to the free throw line, posting 26 attempts - 10 more than the closest player - and making 19 (73 percent). He had 13 points and 10 rebounds in a 56-52 win over FBCG.

"I'm working on more point guard skills; like to look for others first before my shot," Milstead said. "I'm just trying to gain more interest and hopefully pick up an offer and just try to show everybody I can play. I'm tired of being under the radar; I'm just ready to break out."
Trevon Wright, NoVa Suns
An unsigned 5-10 senior guard from Herndon, Wright turned in one of the top two-way performances of the weekend, leading the 17U Division in both assists per game (7.3) and steals per game (3.3) to help the Suns go 3-0. He started the weekend with one of the event's clutch baskets, hitting the game-winner with 17 seconds remaining to cap an 8-point rally and defeat the Maryland Renegades, 50-49. In a 65-46 win over PG Stealth on Sunday, he put up 11 points and 9 assists (against just one turnover). Wright said he's currently looking to take a postgraduate year.
Jacob Thibodeau, NoVa Suns
The 6-4 Thibodeau (Westfield 2015) showed an exceptional nose for the ball, finishing as the 17U Division's top rebounder at 11 per game. He was solid offensively as well while notching a pair of double-doubles:14 points and 13 rebounds against Pryme Time, and 12 points and 12 boards against PG Stealth.
Jeremy Jones, NoVA Suns
Several Division III schools in attendance showed interest in Jones, a 6-5 forward from Hayfield. It was easy to see what they like; he's a skilled offensive player who looked comfortable on the block and behind the 3-point line. He had a game-high 21 points in the Suns' win over Maryland Renegades on 9-of-15 shooting, including a perfect 3-for-3 from 3-point range. He added 16 in a win over PG Stealth.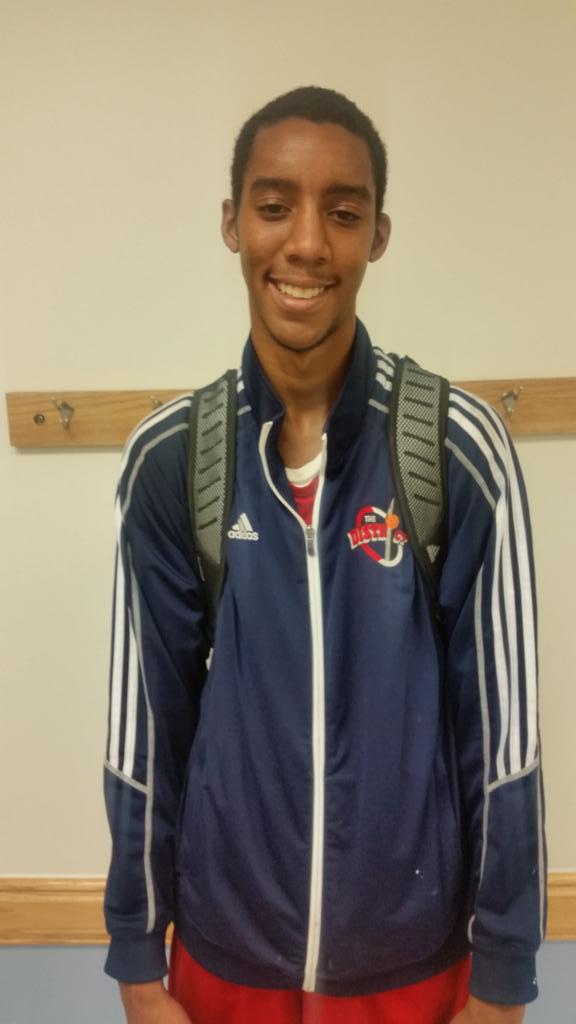 Tyjhai Byers, The District
Coming off a strong junior season at Bethesda-Chevy Chase, the 6-9 Byers (PICTURED) has continued his rapid improvement with The District this spring. He was a shot-blocking machine in Bowie, swatting an event high 19, including 9 in an opening win against Orange Life Elite and 6 against Norfolk Knights. He's very active on both ends, and was able to produce offensively off of a steady diet of second-chance points.
"I've always loved second-chance points," Byers said. "I think it gives energy to the other guys when you're able to get second-chance points or score on put-backs on on alley-oops. I think the energy starts to feed to them, and then they'll start to play better as a team, too."
Kyle Copeland, The District
The Tuscarora (Va.) standout is one of the more underrated guards in the area 2016 class. He currently holds offers from High Point and Mount St. Mary's, but should improve that with a solid summer. He looked good in Bowie, particularly in an 18-point outing in a win over Maryland Trailblazers. Copeland is able to get his points in the flow of the offense without forcing it, and showed good touch in the mid-range and from beyond the arc.
Jake Kuhn, The District
Kuhn made his debut with The District and looked right at home, scoring 10 points in an opening win over Orange Life Elite. He looked even better against Norfolk Knights, scoring 12 points on 5-of-7 shooting, including 2-of-3 from 3-point range. He's got good size at 6-4, handles the ball well, and shot at a high percentage both off the catch and off the dribble. Missed his entire junior season at Whitman due to injury, but showed no rust and looks primed for a nice run with The District.
Andrew Hill, FBCG
An unsigned senior from T.C. Williams, Hill is an athletic combo guard who thrives in transition. He's speedy and explosive, and would be a good fit for a D-3 program looking for a scoring combo guard. He tied for second in 17U Division scoring at 13.3 points per game after scoring in double figures all three games: 12 vs. DC Phenoms, 13 vs. Southern Maryland All-Stars and 15 vs. Virginia Elite-Ham.
Darryl Smith, FBCG
Smith (Suitland 2016) has been one of the most highly-regarded local public school prospects since his freshman year. He's a talented scorer, but has started to demonstrate an ability to get his teammates involved, as evidenced by a 11-point outing against DC Phenoms in which he dished out four assists with zero turnovers. He can fill it up when called upon, but admitted he's made a concerted effort to show college coaches that do more than score.
Kenneth Lewis Jr., Maryland Renegades
A 2017 guard from Loyola-Blakefield, Lewis turned in an impressive weekend, showing a knack for converting tough drives to the basket. He was able to finish from awkward angles, and was fearless going into the paint amongst larger players.

"I'm trying to work on getting stronger, and maybe not hitting the ground so hard," Lewis said with a smile. "Just get stronger and maybe help my team rebound, too."
 
Isaiah Boggs, PG Stealth
Boggs provided two of the weekend's biggest plays with a pair of nasty poster dunks, including one vs. Pryme Time that caused the entire Stealth bench to rush the floor. A powerful and explosive  2016 wing guard, the Largo product is able to physically overpower perimeter defenders and finish above the rim. He's a solid defender and has attracted D-I interest, but needs to continue to develop as a ballhandler and improve his jumper. He showed signs of both in Bowie, flashing a pull-up jumper that should make him an even more dangerous scorer if he's able to hit it consistently. He was the bright spot with 22 points in Stealth's loss to NoVa Suns.
 
Lashawn Rodgers, Norfok Knights
Rodgers (Oscar Smith 2016 Guard) opened in style, hitting a circus shot at the buzzer to force overtime in an eventual loss to Maryland Trailblazers. He was the Knights' most consistent offensive performer all weekend, tallying 11, 11 and 16 points in three games.
Brandon Dawson, Maryland Trailblazers
Dawson had a good career as the primary offensive option at Forestville, establishing himself as one of the top public school scorers in the area. He has shown the ability to handle a more traditional point guard role, but sometimes slips back into his scorer-first mentality and forces tough shots. He's supremely confident, and has the ability to finish shots from difficult angles, get to the rim, and knock down shots consistently from beyond the arc. Dawson has attracted interest from Division III programs, and would be a nice fit for a school looking for a scoring combo guard.
Michael Middleton, Maryland Trailblazers
Middleton turned in another solid performance for the Trailblazers, showcasing a steadily-improving all-around game. He's at his best attacking the rim, but showed a nice mid-range game while scoring 13 points against Norfolk Knights and another 13 vs. The District. Defensively, he has the length and athleticism to be a lockdown defender if he commits himself to it.

Joe Jackson, Maryland Trailblazers
A veteran of DMVelite events, Jackson had an inconsistent weekend offensively but turned in one of the most impressive lines of the event, going 7-of-10 from 3-point range for 21 points in a win vs. Orange Life Elite.

Malik Norfleet, Virginia Elite-Ham
The Capitol Christian graduate has long been a solid defender, but he got a chance to flash some of his offensive skills last weekend. He led his team with 11.3 points per game and closed with 19 on 7-of-9 shooting in a loss to FBCG. He's strong going to the basket and never shies away from contact, and has improved his mid-range game.
 
Benjamin Young, Team Rengade
The 6-7 forward (St. Mary's-Annapolis 2016) is a skilled post scorer who showed good hands and touch. He looked impressive in a 16-point outing against Maryland Supreme, using his length and good footwork to create space and finishing tough shots in the paint.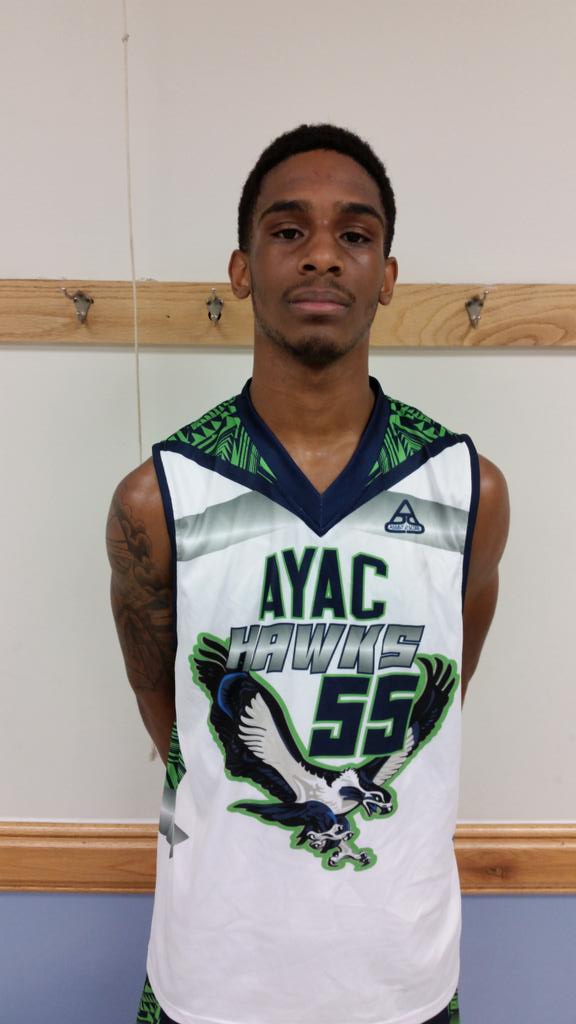 Bryan Ruffin, AYAC Hawks
What Ruffin (Pictured) does best is turn defense into offense. The Freedo-Woodbridge 2016 guard plays great defense that leads to easy buckets, and once he gets going can heat up from beyond the arc. He showed a nice first-step and consistently got into the lane and finished. (CA)
Xavier Prevoznik, AYAC Hawks
For a high school big man, Prevoznik (Seton School 2016) is exactly what you want. Big inside, soft touch from outside, and a player who can find his shot. For Xavier though, working on ball handling skills could make him even more of an offensive threat. (CA)
Devin Garrett, FBCG
The Indian Creek (Md.) 2016 wing is always in attack mode on the offensive side of the ball, slashing and getting to the rim almost on every drive. However, Garrett can find himself getting too far into the lane without making a decision and costing his team the ball. A decent shooter, if Garrett can find a sweet spot on the floor, he'd be a much more effective offensive player. On defenses it's all about intensity. When he wants it, he can be a shutdown defender. (CA)
Karon Green FBCG
Green (Capitol Christian 2016) is what the future of big men look like. He's able to pass, handle the rock, create his own offense, and is a scoring threat from inside or outside of the post at 6'7. One thing though, the simple pass. If Green gets better at being the assist to assist man, he'll become more of a complete offensive player. He scored 16 points in a win over Virginia Elite-Ham on 6-of-6 shooting from the field. (CA)
Andrew Wimbush, Maryland Defenders
The Central 2015 wing plays at his own pace, doesn't take bad shots and gets teammates involved. Can do all the little things that lead to winning games. (CA)
Daquan Simmons, Maryland Defenders
Simmons (Central 2016) is a scrappy guard who isn't afraid to take shots. Keeps the dense honest both with long ball and penetration into the lane. (CA)

Torrey Brittingham, Maryland Supreme
The DMVelite Eastern Shore Player of the Year was steady and productive all weekend, finding a good balance between creating for teammates and scoring himself. He has excellent vision and found ways to thread passes through tight seams while averaging 5 assists per game.
Tyree Henry, Maryland Supreme
The 6-6 Henry (Stephen Decatur 2017) is a workhorse with a motor that ran non-stop in Bowie. He scored 12 points against Maryland Defenders on 6-of-6 shooting, and made his presence felt in the paint all weekend, averaging 6.7 rebounds and 2 blocks per game.
 
Keve Aluma, Maryland Supreme
The other half of Decatur's 2017 post duo, Aluma hasn't been playing basketball long and shows his youth at times. His upside is tremendous, though, and he showed flashes of dominance in an 11-point, 11-rebound performance against Maryland Defenders. He has very nice hands and footwork for a young big, and a good shooting touch.
MORE STANDOUTS
Tim Bing, FBCG (National Christian 2016 Guard)
Daryl Bones, The District (IDEA Charter 2016 Guard)
Jordan Brittingham, Maryland Supreme (Wicomico 2016 Guard)
Ronel Brown, Pryme Time (SEED)
Christian Caldwell, PG Stealth (Largo 2016 Guard)
Aboubacar Camara, Maryland Trailblazers (Parkdale 2015 Guard)
Tauron Crenshaw, Maryland Defenders (Capitol Christian 2015 Forward)
Joshua Darville, AYAC Hawks (Christ Chapel 2016 Wing)
Dominic Day, Orange Life Elite (2016)
Malik Dupree, DC Phenoms (Riverdale Baptist 2016 Center)
Trevor English, Southern Maryland All-Stars (Westlake 2015 Forward)
Barry Gaines, Maryland Supreme (JM Bennett 2016 Guard)
Jarrett Glover, AYAC Hawks (Battlefield 2016 Guard)
Trevaun Hyatt, Maryland Defenders (Woodrow Wilson 2015 Guard)
Kory Jones, Virginia Elite-Ham (Flint Hill 2016 Guard)
Eric Landis, Maryland Trailblazers (Crossland 2015)
Jacolby Lott, NoVa Suns (South Hagerstown 2015 Guard)
Deontay Marshall, Maryland Renegades (Woodlawn 2016 Guard)
Kofi Maze, DC Phenoms (DVal 2016 Guard)
Kendall McGill, PG Stealth (Largo 2017 Wing)
Earl Mitchell, Team Renegade (Chapelgate 2016 Guard)
Jake Middleton, Virginia Elite-Ham (Patriot 2016 Forward)
Isaiah Miles, FBCG (Gwynn Park 2016 Forward)
Alex Nunnaly, Southern Maryland All-Stars (Cesar Chavez 2015 Forward)
John Nwokoro, PG Stealth (Largo 2016 Guard)
Trystan Pratapas, The District (Georgetown Prep 2016 Guard)
Darin Pugh, Norfolk Knights (Oscar Smith 2016 Guard)
Desmond Rene, DC Phenoms (Thurgood Marshall 2016 Guard)
Isaiah Robinson, Pryme Time (SEED Guard)
Lewis Roman, Maryland Renegades (New Town 2015 Guard)
Johnny Sawyer, Southern Maryland All-Stars (DeMatha 2016 Guard)
Ya'Sean Scott, Maryland Trailblazers (Crossland 2015 Forward)
Terrell Sheffey, Norfolk Knights (Tabb 2015 Guard)
Jasper Sterling, The District (Riverdale Baptist 2016 Guard)
Darnell Whitfield, Team Renegade (Arundel 2016 Guard)
Ayotunde Yoyin, Orange Life Elite (Archbishop Curley 2015)